Booth Renting
*Booth costs
1. Standard Booth:
Overseas Enterprise: USD 1,500/ 9㎡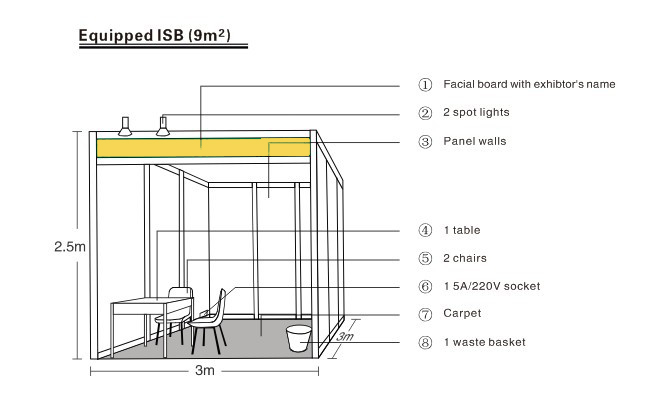 Notes: Each standard booth is equipped with 3 panel walls, 1 table, 2 chairs, 2 spot lights, 15A/220V socket, 1 waste basket, 1 facial board with exhibitor's name (both in Chinese and English)

2. Raw Space:
Overseas Enterprise: USD 150/㎡, minimum 36㎡
*Advertising costs
1. Insert of OFFCIAL CATALOGUE 6000RMB/per page
2. Outdoor plaza 8000RMB(Size:9m*4m)
*Application Procedures
1. E-mail exhibits photos and Business License to the Organizing Committee(info@buddhafair.com)
2. If verified and qualified, you will be contacted by the Organizing Committee to select booth location.
3. Fax Space Application Form, Exhibition Regulation as well as ID card copy of corporate Legal person back. The booth will be confirmed only after the organizing committee stamps on them.
4. Upon confirmation, remit 50% of the total cost as advance payment within 3 days. Then, please send the remitting bill, catalogue, invoice and other information back.
5. Please pay up before February 28, 2019, or the organizing committee has the rights to cancel or adjust the booth. Advance payment is nonrefundable.
6. Booth Confirmation as the sole certification for exhibitors to claim exhibition badges onsite, as well as Exhibitor Manual, will be express delivered to you to confirm your exhibition qualification.
7. With Booth Confirmation, badges, catalogue and gift can be claimed at the main entrance of exhibition center on May 7-8, 2019.
8. Exhibition Time: May 9-13, 2019.
9. Booth can only be dismantled after 4:00pm, May 13, 2019.